Setting up a small wood work shop is always challenging especially if the space is being shared with other household items. In order to maximise space utilisation, it's quite important to come up with some unique ideas to set up a wood work shop. Here are 12 ideas to set up a small wood work shop with maximum space utilisation
Idea 1: Paint the wood work shop walls
This wood working shop idea is quite deceiving as we are not doing anything to increase the space available, its just psychological. Garages are normally ignored from decorations perspective. A wood working space looks smaller if the walls are left bare with the exposed concrete or the wood work. Painting the walls with some bright colors will helps make the space feel bigger. Cover walls with exposed wood with plaster board and paint the plaster board.
Idea 2: Add shelves closer to the sealing
If you share your wood working space with other household items, then you dont want them anywhere on the floor. All the dust that gets generated while wood working will settle on your household items. Getting rid of the saw dust from the items can become a nightmare. Use the wall space near to the sealing to add some strong shelves.
Idea 3: Optimize clamp storage
Use the wall to create a space to store the clamps. Keep the clamp storage close to the workbench so its easily accessible.
Idea 4: Store tools on the wood work shop wall
The best way to utilise the workshop wall space is it use to store all the tools and items that are needed for wood working. Build simple shelves and fix them to the wall. Make sure tools like screw drivers, nail guns, etc. can be stores on those shelves.
Idea 5: Move heavy tools on castor wheels
When space is a constraint we cannot afford to have power tools taking up all the space all the time. We don't use all the tools all the time and making them mobile will help you utilise the workshop space more efficiently. There are some great castor wheels available with brakes that can be easily fixed to structure that can support power tools. I made my table saw and mitre saw mobile. Since I don't use my router or planer so often, I have stacked them over each other and have made them mobile.
Idea 6: Create storage space under the mobile tools in your wood working shop
When you mobilise the power tools, there will be space underneath the top surface. Use that space to store either wood working tools or scrap wood. I use the following castor wheels for all my mobile tools

Castor wheels
Click here to find a lot of more options for castor wheels
Idea 7: Place the workbench against walls
Placing the workbench centrally in a small work shop with make movement in the workshop quite difficult. I find it useful to set the workbench against one of the walls. In fact, I have two rectangular work benches arranged in an L shape.
Idea 8: Maximise workbench area using table saw
A table saw has got a lot of surface area that can be used for wood working once the blade has been retracted below the working surface. I have built two rectangular work benches arranged in an L shape and have placed the mobile table saw inside the L shape. That gives me a lot of space and also can use the table saw.
Idea 9: Arrange tools as per your workflow to maximise space utilisation in your wood working shop
Everyone works on different types of wood projects in their workshop. This will dictate how the tools are arranged in the workshop. I do a lot of work on pallet wood which includes firstly ripping up pallets on a table saw and then cutting them using a mitre saw. Which is the reason I have arranged my table saw and mitre saw very close to each other. I don't use the router or the planer quite often so I have mobilised them and placed them away. So you see, based on the kind of wood work you do, you will have place the tools sensibly around the workshop.
Idea 10: Create storage space under the work bench
I like to create storage space where every possible because of the small size of my workshop. And a workbench is a very good asset to store items like infrequently accessed tools, scrap wood or some other bits. I have built my workbenches with two shelves underneath which gives me ample storage space.
Idea 11: Keep the lumber away from the working area
I find it very useful to keep the lumber away from the working area because the wood can sometime disrupt working as the wood can fall etc. I have placed the wood at the entrance of my workshop against a wall.
Idea 12: Don't ignore dust collection in your wood working shop
Since the workshop is small, you will be expose to more amount of dust as it doesn't have anywhere to go. This makes having an efficient dust collection mechanism very important for a small workshop. I use a standard workshop hoover and keep it next to the workbench. The vacuum hose can be easily moved around from one power tool to the other without moving the hoover around.
I hope these wood working shop ideas help you as much as it helped me setting up my small workshop in my garage. If you need more help to set up your workshop, then these are some really great guides that can be used for this purpose. You can do a lot of small pallet wood projects in such small workshops.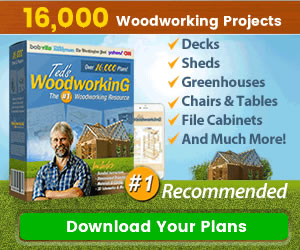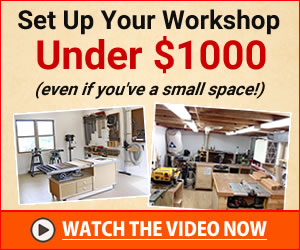 Steps to plan the layout of your small wood working shop
Step 1: Measure your wood working shop space
Step 2: Measure the area that your tools occupy.
For e.g. if you have a table saw, measure the rectangular area the table saw occupies in the workshop. Similarly for mitre saw, etc.
Step 3: Determine how much working space you will need.
This will change based on what kind of wood working you do. The workspace required to work on wooden frames will be quite different from the space required to create furniture like sofas, chairs etc.
Step 4: Identify the source of lighting in your wood working shop.
If you have windows with good amount of light, then placing the workbench near to it is always beneficial. If there is no natural lighting coming in and if you are completely dependent on sealing lights, then you can place with workbench at a location that gets the most sealing light. When you are working, your shadow shouldn't obstruct your view else it will be difficult to see what you are working on.
Step 5: Create cut outs of your wood working shop and tools that will take floor space
Draw a proportional diagram of your wood working shop space on a sheet of paper. Make sure to mark the windows and doors as those areas will have certain restrictions when placing the tools and workbench. Identify the light source and mark the direction of the light. Mark the position of the power source as this will be quite critical for placing your power tools.
Draw the proportional diagrams of the space that your workbench and tools will occupy in your workshop.
Measure your height and have a vertical cutout proportional to your measured height.
Place the workbench and tools on the workshop diagram and also place the vertical cutout and see how the layout looks and also check where your shadow would fall based on the direction of the light source.
Step 6:
Once you are satisfied about the layout, start placing the tools and workbench as per the layout you planned on the piece of paper.